Osinovaya Roshcha Logopark is the extensive project of of Sterh Corporation Corporation and one of the largest distribution centers in the North-West region of Russia.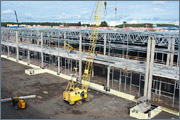 The project started in 2001. In this year bounded warehouse was built. In 2004 company decided to increase the area of the Logopark and built commercial and office spaces to provide full logistics services. It was an incitement to the new development of business.
In summer of 2007 the first stage of the Logopark was officially opened. The Terminal offered to customers a wide range of services for storage and customs clearance. It provides clearance services at: St. Petersburg and Central Excise Customs.
Now the Corporation continues to develop and realize new investment projects. In autumn of 2010 the refrigerated warehouse was opened. Refrigerated warehouse facility in the Osinovaya Roshcha Logistics Park developed with the latest technology in warehouse logistics, meets all standards of modern warehouse complex and focused on providing complete, high quality and high-tech package of services.
In 2013 warehouse №1 that provides storage of cargoes in refrigerator and dry area was built. Warehouse is equipped with modern racks and new reach trucks. Large common area with special zone for cross docking provides a significant operational space for maintenance of light-, middle- and large-capacity vehicles. In 2014 the third dry A-class warehouse with area of 52 000 m2 was built. Storage capacity of the warehouse is 86,000 pallets.