A-class refrigerated warehouse facility is a unique area of low-temperature safekeeping.
Building area - 15,000 2.
Freezers (t from -24 to -18 °C) capacity - 20,000 tons of lump storage.
Refrigerators (t from 0 to 8 °C) capacity - 10,000 tons of lump storage.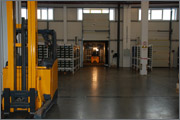 The construction of the refrigerated warehouse allows our customers to store and handle loads all the trade nomenclature in the required temperature. The compliance with technical standards and regulations ensure the safety of cargo conditions, cargos consumer quality.
The cold storage infrastructure makes an opportunity to centralize all operations with frozen products. Our warehouse is an example of high-quality facility at the intersection of trade flows, which easily available for quick goods delivery through the St.Petersburg.
Refrigerated warehouses in the Osinovaya Roshcha Logopark provide opportunities for high-quality low-temperature storage products:
Freezers and refrigerators of different capacities.
Veterinary permission to store different types of products.
Wide temperature range: from - 24 to -18 °C and from 0 to 8 °C.
Control of temperature conditions.
One loading-unloading gate per each 500 m2.
High-speed handling (for all types of vehicles).
Modern storage equipment and automated control systems.
Complete machining diverse range of goods.
Refrigerated warehouse facility in the Osinovaya Roshcha Logistics Park developed with the latest technology in warehouse logistics, meets all standards of modern warehouse complex and focused on providing complete, high quality and high-tech package of services.