Osinovaya Roshcha Logistic Park provides full range of services in the A-class warehouse facility. It was designed and developed in compliance with the highest international standards and the A-class warehouse parameters.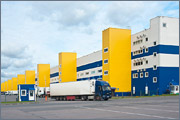 Warehouse is equipped with modern racks and new reach trucks. Large common area with special zone for cross docking provides a significant operational space for maintenance of light-, middle- and large-capacity vehicles. Warehouse management system allows managing any numbers of good's attributes, including shelf life and lot size.
Our dry solutions offer great flexibility for customers looking to outsource storage and complex logistics services. Our experienced team can provide unique valued-added services including personnel intensive processes, rework, packaging, and reverse logistics. We also offer sublease space for distribution and manufacturing tenants in many of our facilities.
The warehouse facility comprises five dry warehouses.
The first dry warehouse area is 39 000 m2. It was launched in January 2013.
The second dry storage area is 7 800 m2. It is a dry zone of the large warehouse, which was launched in 2010 and also comprises chilled, frozen zones.
The third dry warehouse area is 52 000 m2. It was launched in 2014.
The fourth dry warehouse area is 42 000 m2. It was launched in March 2019.
The fifth dry warehouse area is 57 000 m2. The first stage of the warehouse was launched in 4Q 2020.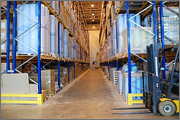 All our warehouses offer dust, pest, and humidity control. The ceiling height of those warehouses is 15 m. Warehouses are equipped with firefighting system, ventilation, independent power, heating and water supply system.
The personnel of Logopark comply with the regulations and standards of work. It allows us to keep a terms of all cargo operations, as well as customers are ensured against unexpected situations with high costs.