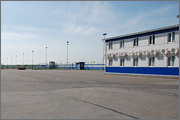 Osinovaya Roshcha Logistic Park comprises open asphalted storages with an area of 15 hа dedicated for placement of different cargos:
cars and trucks;
machinery;
building materials and so on.
All total open storage area with asphalt surfacing has a convenient vehicle access, electric light and an integrated security system.
Open storage areas are located near warehouse and office facilities that allow centralizing logistic chains and their management in one place.