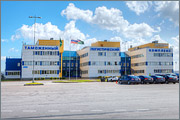 On the territory of the terminal there are two bonded storage facilities, which are in the jurisdiction of St. Petersburg and the Central Excise Customs Offices.
Temporary storage facilities fully comply with requirements applied by the Federal Customs Service of Russia for arrangement and equipment of bonded warehouses. They are equipped with necessary loading/unloading and special machinery. Storage has highly qualified stuff, warehouse management system and enables to provide full range of bonded storage services and to perform all necessary actions during customs clearance of the goods.
The St.Petersburg Customs bonded storage facility
Total area: 12690,3 sq m;
Covered warehouse: 3129, 3 sq m;
Uncovered area: 9561 sq m.
The Central Excise Customs bonded storage facility
Total area: 5100 sq m;
Uncovered warehouse: 5100 sq m;
The modern electronic data system is used for cargoes and vehicles control and for transfer of preliminary information about imported goods to customs.