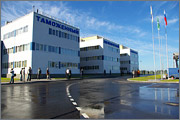 Welcome to Osinovaya Roshcha Logopark!
Logopark is designed with the latest technology in the field of warehousing and provides full range of logistics services. Osinovaya Roshcha Logopark has become the main base of the supply chains of many companies because of its modern infrastructure and a unique road access.
On the territory of the logistics park there are turning circles and parking lots for trucks and cars. An electric power generator, a boiler house and a water supply well ensure uninterrupted work of the terminal round-the-clock. Warehouse management system allows integrating with customer's information system.
The terminal occupies 60 ha near the junction of Vyborgskoe shosse, Gorskoe shosse and the Ring Road.
The territory of the Logopark includes:
A-class dry and refer warehouses
Open storage area
Container yard
Bonded storage facilities
Administrative and office buildings
Waiting zone and parking lots for trucks and cars.
Osinovaya Roshcha Logopark provides integrated services and work 7 days a week.